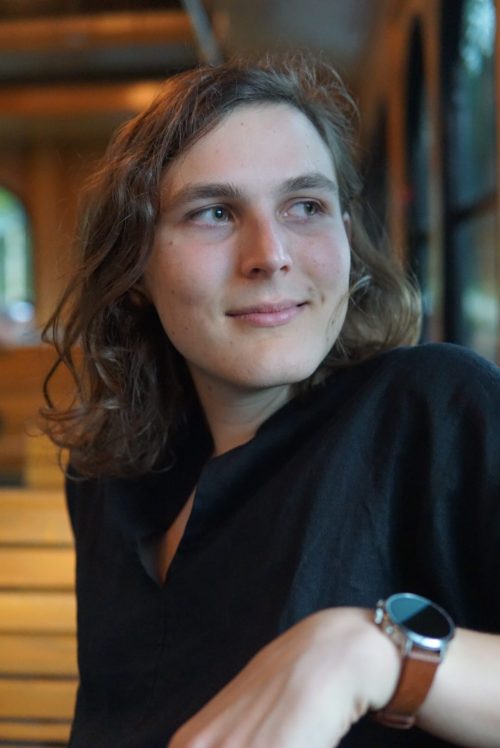 Member Profile:

Gwen Lofman
1. What do you do, and how long have you been doing it?
I write software and I've been writing software since I graduated high-school. I have just graduated with my Bachelor's degree and I'm looking to start my career in computer graphics this summer.
2. What was your first job?
My first job was as an assistant at a robotics lab at Florida State University. I worked on refactoring, improving, and extending our path-finding software which could solve a very wide variety of controls problems from robotic manipulators and wheeled vehicles to power-systems of solar panels with dynamic loads and climbing robots.
3. Where did you complete your formal education?
I just graduated with a B.S. in Computational Science form Florida State University.
4. How did you first get involved with ACM SIGGRAPH?
I discovered SIGGRAPH through YouTube around 2010 when I was in middle school, but I didn't become involved until prompted to volunteer by my local FSU SIGGRAPH chapter. I signed up for the conference that same day, which was the final day of applications. I was initially wait-listed, but I was later accepted to the Student Volunteer program and made it to Anaheim for SIGGRAPH 2016. Since then I have been a team leader in Los Angeles and Vancouver, and was a Student Volunteer in Tokyo Japan.
5. What is your favorite memory of a SIGGRAPH conference?
When I first walked through the art gallery at SIGGRAPH 2016 I was completely blown away. Once I finally had the chance to explore the art gallery with my friends, I had a blast as all of the exhibits were interactive in some form.
6. Describe a project that you would like to share with the ACM SIGGRAPH community.
I created avisualization and technical demoof SBMPO, a robotics controls algorithm, in the setting of a simple video game world where it allows a monster to its movements in terms of actions like walking and teleporting.
7. If you could have dinner with one living or non-living person, who would it be and why?
My abuelita, I always stay with her when I visit home. I cherish all the things I learn from her, and I'm always excited to connect with her, and through her my family history.
8. What is something most people don't know about you?
Because of my name, most people don't realize, at first, that I'm hispanic. My father is from Nicaragua and I grew up speaking Spanish before I spoke English.
9. From which single individual have you learned the most in your life? What did they teach you?
Nhi Tran was my chapter president when I served as secretary for the FSU SIGGRAPH chapter; from her I learned how to live up to my responsibilities, how to plan events, and how to be organized and clam even when there are many many things going on.
10. Is there someone in particular who has influenced your decision to work with ACM SIGGRAPH?
Mari Kyle has been a huge inspiration in many areas of my life. We met right as she graduated from FSU when I was a freshman and since then she has been a very important role-model in both my academic and career goals.
11. What can you point to in your career as your proudest moment?
My proudest moment was actually as a Team Leader in SIGGRAPH 2017, where, at the end of the conference when so many student volunteers had identified themselves as members of the LGBT+ community, I came out to the student volunteers as a queer, trans woman. It felt like an important milestone where I realized my community was openly represented and respected at multiple levels of the SV program.