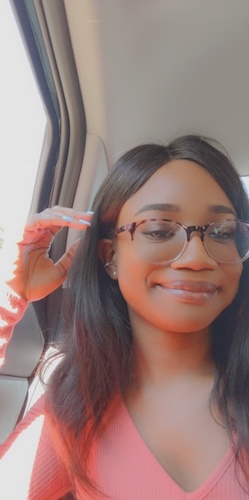 Member Profile:

Gabrielle Robinson
1. What do you do, and how long have you been doing it?
I am an Animation Associate Producer, I have been in my current role for about a month, but I have been producing for short animation and games for a total of two, almost three years.
2. What was your first job?
My first ever job was at a bank as a risk management intern.
3. Where did you complete your formal education?
I received my BFA in Animation at Savannah College of Art and Design in Atlanta.
4. How did you first get involved with ACM SIGGRAPH?
I first got involved with ACM SIGGRAPH through the chapter at my university! I joined the club and a year later I became the vice president.
5. What is your favorite memory of a SIGGRAPH conference?
Definitely during my first conference, working in the Immersive Pavillion with the creators and my fellow student volunteers!
6. Describe a project that you would like to share with the ACM SIGGRAPH community.
I am working on a short animation with a small team, I can't give too many details yet, but I would love to share it with the ACM Community when it is complete.
7. If you could have dinner with one living or non-living person, who would it be and why?
I would like to have dinner with Kamala Harris. I pick her because of her cultural background and because she is the first woman to become vice president of the united states, I would love to ask her questions and see how she thinks.
8. What is something most people don't know about you?
Most people don't know that before I decided to pursue a career in the Arts, I considered studying Infectious disease (could have come in handy now that I think about it)
9. From which single individual have you learned the most in your life? What did they teach you?
My Dad, He taught me the importance of time management and balance.
10. Is there someone in particular who has influenced your decision to work with ACM SIGGRAPH?
The president (Casey Roberts) of my school's SIGGRAPH chapter was definitely influential in my decision to with ACM SIGGRAPH. She was a student volunteer and then TL at both North and South America conferences.
11. What can you point to in your career as your proudest moment?
The launch of S17 of Fortnite is so far my proudest moment, I loved working on that game and with my team in the concept department! I was involved in production from start to finish.