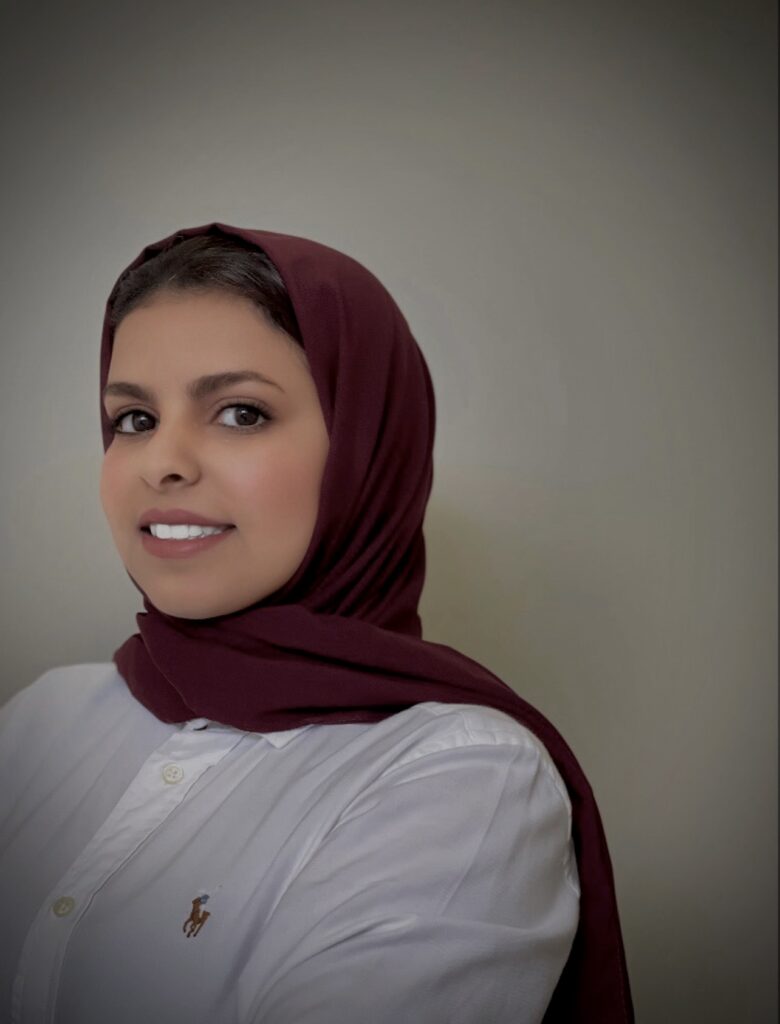 Member Profile:

Fatimah Almathami
1. What do you do, and how long have you been doing it?
I am a PhD researcher at the school of ITEE, University of Queensland- Australia. My research work goes in the direction of diversity and inclusion, more specifically women in IT/IS. I work as a sessional academic at Griffith University in Australia. I am also a Volunteer member of the SIGGRAPH D&I Committee since April 2020.
2. What was your first job?
My first job which was unpaid is babysitting little children. The experience was very fulfilling as it taught me how much patience I need in life and how smart children are.
My first paid job was as a sessional academic, teaching IS courses. I learnt a lot from this experience as it taught me that if I need to learn something comprehensively then I should teach it.
3. Where did you complete your formal education?
I obtained my Bachelor of Arts (in IT & IR) in 2014 and Master of Computer Science in 2016 from the University of Queensland in Australia. I also obtained a Graduate Diploma of Research in IT in 2018 from Griffith University- Australia.
4. How did you first get involved with ACM SIGGRAPH?
Initially I started as a Student Volunteer in Brisbane 2019. I joined once I knew there was availability and meed for student volunteer and luckily, I was accepted. I had quick chat with D&I Committee chair Tony and some members Diana and Alex which encouraged me to join them.
5. What is your favorite memory of a SIGGRAPH conference?
I think it was when I attended a Production Session about Frozen 2 and production of other movies. Also, getting to try lots of products at the exhibition.
6. Describe a project that you would like to share with the ACM SIGGRAPH community.
I am still trying to polish my idea of creating a fun educational/learning device that targets young children so parents can rest assured that their children are not accessing inappropriate apps.
7. If you could have dinner with one living or non-living person, who would it be and why?
It is difficult to name only one person. But I would say it would be with one of these fabulous people: Al-Khwarizmi, Marie-Curie, Loie Fuller, Ada Lovelace, Maria Mayer, Ghazi AlGosaibi. I would love to ask them about how they handled making huge changes in their own lives.
8. What is something most people don't know about you?
I have written a novel and poems but I do not have the courage to share or publish the content.
9. From which single individual have you learned the most in your life? What did they teach you?
My grandmother from my mother side. She had unbelievable vision into the future and knew exactly what decisions she would take to deal with situations at the same moment they occurred. She is the bravest women I saw in my whole life. Also, both of my late parents, together they built a great team. I learnt from them to never to give up on my dreams and I should continue to work hard. They pushed everybody in the family to achieve what they want or need. They taught me how to overcome barriers and challenges I face to succeed in life.
10. Is there someone in particular who has influenced your decision to work with ACM SIGGRAPH?
Yes, Tony Baylis, ACM SIGGRAPH Diversity & Inclusion Committee Chair. I had a quick chat with him at SIGGRAPH Asia 2019. His words encouraged me to join his committee.
11.What can you point to in your career as your proudest moment?
I am still working on a project that will be a life changing phase for me, so wish me well in succeeding,