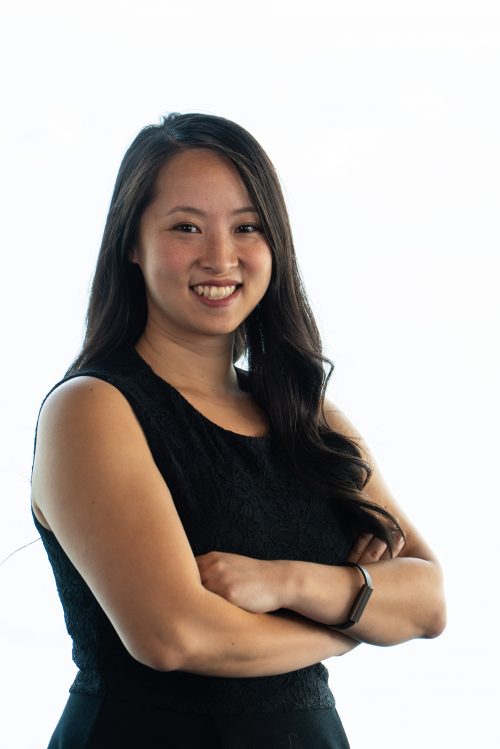 Member Profile:

Emily Hsu
What do you do, and how long have you been doing it?
What I do in broad terms: scheduling, re-scheduling, short-term and long-term planning, managing and balancing resources, and most importantly, supporting artists and building teams. More specifically, I have worked in Production since 2013, but decided to officially pursue a career in this industry after an internship with PDI/DreamWorks in 2010. At the moment, I am an Associate Producer at Blizzard Entertainment with the Cinematics team and have been enjoying that role for the last year and a half.
What was your first job?
My first true job out of college was at Pixar Animation Studios working with the enormously talented and hardworking team at Pixar PR. During my time there, I was able to witness the grand opening of Cars Land, the release and subsequent awards forBrave, the beginnings of the fun forMonsters University, and quite a few other projects that the team had to juggle. It's hard to truly capture in writing just how much I learned in that first job.
Where did you complete your formal education?
I received simultaneous degrees in Business Administration and Film & Media Studies from the University of California, Berkeley. But I don't think it should stop there – as a firm believer in constant learning and education, I also completed a program for a Project Management Certificate and try to take college courses as much as I can, both online and in-person, regardless of a degree being at the other end.
How did you first get involved with ACM SIGGRAPH?
In my first internship at PDI, I was working with the Recruiting team and much of what I did involved scheduling meetings with hiring managers and facilitating candidate interviews. During a week that summer, much of the studio was out for something called "SIGGRAPH" and from there, I looked into it and realized that it was something I could be a part of. The following year, I was accepted as a Student Volunteer at SIGGRAPH 2011 in Vancouver, and have been volunteering with SIGGRAPH ever since.
What is your favorite memory of a SIGGRAPH conference?
It is too hard to pick one so, instead, I'll talk about my favorite moment at every SIGGRAPH. It's the Friday before SIGGRAPH opens and I generally like to take a short walk around to get my bearings. Exhibits, walls, frameworks, stages are still being built and finalized, contributors are beginning to arrive for set-up, and the excitement is buzzing from every corner of the convention center. It is a behind-the-scenes view of the conference that I have the immense privilege to experience. Towering, impressive displays are filling massive empty halls and in a mere two days from that moment, 18 months of planning by volunteers and contractors will come to fruition and be enjoyed by thousands of attendees. It's always a little bit breathtaking to think about and I have to take that moment to stop because each conference goes by so quickly. It is gone and over before you know it and it's time to start thinking about the next one.
Describe a project that you would like to share with the ACM SIGGRAPH community.
I am currently advising on a story-driven game project that my fiancé is creating. It is true early stages with just a few collaborators so there is not yet a lot of information to share, but it is a really exciting stage to be in. We are exploring character and environment designs, gameplay and levels, rules and limitations – all possibilities are open so there are a ton of different directions we can take it in. It is freeing!
If you could have dinner with one living or non-living person, who would it be and why?
David Attenborough. At almost 93 years old, he is a force to be reckoned with. Outside of the day job, my other passion is the ocean – learning about marine animals, understanding human impacts on underwater ecosystems, and learning ways to reduce plastic consumption and pollution. Before college, I was so focused on my own life, my career, my development – me, me, and more me. Watching Mr. Attenborough's documentaries opened my eyes to something so much greater than myself. His way of storytelling the natural world resonated with me (and I'm sure many others). He inspired me to get off the couch – to stop just watching things happen and try to do something about it. I have started volunteering for local organizations in my community, mainly the Ocean Institute in Dana Point, where I can help educate and inspire others to do the same.
What is something most people don't know about you?
People often think of me as hyper-productive and "always doing something," but I certainly have my moments of binge-watching shows or otherwise "frivolous" fun. As of this writing, I am at Level 1,327 on Candy Crush without ever having to spend a single cent on leveling up. Once I hit the point where I have to spend money to keep going, that's when I will quit – so perhaps the genius of the game is in the skill-level balancing. But the mobile game has served me well on many a plane ride to SIGGRAPH functions so I'm sure that number will be even higher by the time the next conference comes around!
From which single individual have you learned the most in your life? What did they teach you?
It would be hard to find anyone I have learned more from than both my parents. They were both immigrants as well as accomplished entrepreneurs so that is a level of fearlessness that I can only aspire to. They taught me to strive for success while embracing the learnings to be gained from failure. Above all, they taught me that no matter what I chose to do in my life (whether it was academics, sports, career or otherwise), to do it with everything I had. Sometimes that took a bit of trial-and-error, but the guiding principle was that if I only cared enough to do something halfway, it simply was not worth it – and that time and energy would be better spent on something I was truly passionate enough about. (Thanks, mom and dad! Sorry for all that money you spent on beginner violin and ballet lessons.)
Is there someone in particular who has influenced your decision to work with ACM SIGGRAPH?
Roy C. Anthony and Mikki Rose have been great mentors through much of my work with SIGGRAPH. They are shining examples of balancing big SIGGRAPH volunteer roles on top of big day jobs with enormous responsibilities. Without them, I would not have had the confidence to take on more with the organization.
What can you point to in your career as your proudest moment?
This might be weird to say, but I don't think I've had it yet. I have had many moments in my career that I am proud of, but I'm not sure if I will ever have my proudest moment as I think I will always be striving for it.