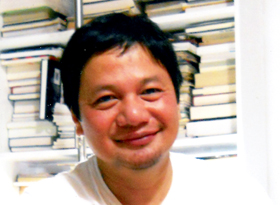 Member Profile:

Edwin J. Cuenco
1. What do you do, and how long have you been doing it?
I am an Associate Professor at ASU-Texas Tech University
2. What was your first job?
Assembling together 1983 IBM XT/AT PCs and running non-stop coffee errands!
3. Where did you complete your formal education?
George Washington University
4. How did you first get involved with ACM SIGGRAPH?
I attended my first-ever SIGGRAPH Conference in 1999 – WOW!
5. What is your favorite memory of a SIGGRAPH conference?
When my students won the SPACE Poster Competition in 2000 and 2001
6. Describe a project that you would like to share with the ACM SIGGRAPH community.
As Fulbright U.S. Faculty Scholar to Nepal, I was fortunate to be a part in promoting awareness and support for the polluted Bagmati River –notwithstanding daily substantial technical and resource challenges.
7. If you could have dinner with one living or non-living person, who would it be and why?
A one-of-a-kind, tête-à-têteAsiandinner with Chinese Contemporary artist and activist Ai Weiwei for his indomitable stand on democracy and human rights– so in spring!
8. What is something most people don't know about you?
Diehard fan of American jazz vocalist Jimmy Scott famous for his high countertenor voice and badass ballad songs 'nuff said!
9. From which single individual have you learned the most in your life? What did they teach you?
Not from a single individual but from a Buddhist saying – "Live with compassion, Change yourself and change the world, Understand the nature of giving, Work to disarm the ego, Realize non-attachment, and Right livelihood"
10. Is there someone in particular who has influenced your decision to work with ACM SIGGRAPH?
Too many folks to mention – but real credit goes to the unsung Art Gallery "HERO" organizers for their hard work in SIGGRAPH so everyone around the world can dream, inspire, learn, participate and enjoy!
11. What can you point to in your career as your proudest moment?
5 things:
• My former students getting good jobs and professional recognitions in the computer graphics industry–YES!
• My Fulbright U.S. Faculty Scholar Award to Nepal
• My American Advertising Federation Outstanding Educator of the Year Award in Austin, TX
• My United Nations Volunteering Award in Africa
• Personally adopting my four beloved Chihuahuas from a "kill-animal" shelter in Arkansas!