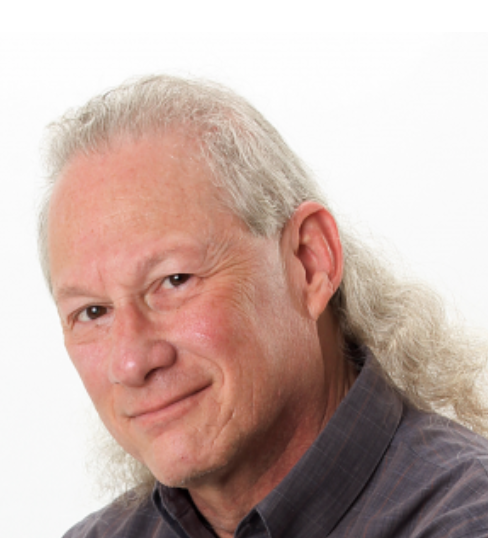 Member Profile:

Ed Kramer
1. What do you do, and how long have you been doing it?
I have been both Adjunct and Full Professor at Denver-based colleges for the last decade, currently at the Rocky Mountain College of Art and Design teaching the Portfolio classes in the Animation and Game Arts programs. Prior to that, 35 years as a CGI production artist for video post houses in Hollywood, New York and Atlanta, culminating with twelve years as a Senior Technical Director and Sequence Supervisor for Industrial Light+ Magic – in the pre-Disney George Lucas era.
2. What was your first job?
In 1981 I started as an apprentice animator at IMAGE WEST in Hollywood, learning to program the Scanimate, an *analog* computer. It was programmed by plugging wires into patch panels to create electronic circuits which controlled the electron beam inside a CRT display. I spent more than two years working with clients for show opens and major network sporting events. Clients and highlights included the open for the Merv Griffin Show (Silver Award 1982, IFTF,) the animated wishing well in Daffy Duck's Fantastic Island,the 1982 World Series open on NBC, and animated logos for Yamaha, Mitsubishi, Danskin, Seat Motors, Veronica TV (Netherlands), Rede Bandierantes (Brazil), and City2 Television (The Philippines). Many of these animations are available on my YouTube channel at https://www.youtube.com/channel/UCa2OzKEXQfIqAHlXOjJ8seA Highlights of that job were getting to spend a day working with Leonard Nimoy on a bank commercial, and working one-on-one with the legendary Friz Freleng on the Daffy Duck movie! (Friz even drew me a picture of Bugs Bunny, one of my prized possessions!)
3. Where did you complete your formal education?
Duke University 1977 – Bachelor of Science, Psychology, Magna Cum Laude. Univ. Texas at Austin 1980 – Master of Arts, Film Production Master's Thesis: Creating Computer Animation for Television (1980)
4. How did you first get involved with ACM SIGGRAPH?
I discovered SIGGRAPH because I was a professional Scanimate animator, and attended the Detroit conference in 1983. (Have only missed 2 conferences since!) At the same time I became active in the newly-formed Los Angeles local chapter, serving as Treasurer in the early 1980's. (Joan Collins, Molly Morgan, Nancy Collier, Greg Passmore, Christa Schubert and others were part of that early group.) When I moved to New York in 1985, I also helped get that local chapter started with the late and wonderful Carol Chiani. I was part of the group that conceived the Chapters Party, originally as a meet-up of the local LA and NY chapters.
5. What is your favorite memory of a SIGGRAPH conference?
There have been a few moments in the history of the SIGGRAPH Film and Video Show where time seemed to stand still – because we knew collectively that we had just seen something not only jaw-dropping, but also game-changing. Two stand out: watching Karl Sims' Particle Dreams in 1988 and for the first time seeing control of hundreds of thousands of particles all moving along individual paths, creating a spectacular animated waterfall, and then again ten years later watching Paul Debevec'sbRendering With Natural Lightband realizing that lighting a scene using CGI tools had fundamentally shifted from that moment forward. My favorite scary memory is when I was asked to be Chair of the SIGGRAPH Pioneers and had to do the introduction of Dr. Jim Blinn to the pioneers! I am never nervous in front of large groups, but introducing this icon of our field was almost too much for me! My last favorite memories were being on the jury of the SIGGRAPH 2006 Electronic Theater, and Terrence Masson's intermission where the audience drew on a huge Etch-a-Sketch – controlled by the group mind – and etched a collectively scratchy teapot!
6. Describe a project that you would like to share with the ACM SIGGRAPH community.
The world really has no appreciation for how extraordinary the pioneering researchers, programmers and artists are who drove the evolution of computer-generated imagery. So my passion is documenting the personal history of our amazing industry, collecting all the little stories behind the big discoveries that led to the real-time photorealistic CGI we all know here in 2020. As Chair of the Pioneers, while stuck in my apartment for the covid crisis, I asked if any pioneer was interested in being interviewed over Zoom to share the story of their journey with the rest of us. So far I have interviewed five pioneers. The first of these was Professor Bob Stone, Extended Reality researcher at the University of Birmingham in the UK, and the interview is available as a blog on my website athttps://www.wizardsofhollywood.com/vr-researcher-bob-stone-leads-new-siggraph-pioneers-series-from-ed-kramer (password "VR wizard")
7. If you could have dinner with one living or non-living person, who would it be and why?
I might like to have dinner with Robert Abel, since I never had the chance to meet him while he was with us, and his creative spirit was such a driving force in the early years of our industry.
8. What is something most people don't know about you?
I have a superpower that nobody knows – even though I'm 65 years old and only 5'6″ tall, I am surprisingly awesome at shooting a basketball! Pretty consistently hit NBA distance three-pointers – and my special trick shot is swishing a skyhook launched from beyond the three-point line! (Yes, there's video…)
9. From which single individual have you learned the most in your life? What did they teach you?
I have been incredibly lucky in my career to have worked with some of the greatest visual effects supervisors and film directors in the history of the film industry, including Douglas Trumbull, Dennis Muren, Scott Farrar, Bill George, John Berton, Scott Squires and Ben Snow – among many others – and have learned so much from each of them. Probably the biggest lesson about working with highly creative people came from Stefen Fangmeier, who was nominated for Oscars for his VFX Supervision for both Twister and The Perfect Storm.When Stefen made the rounds and worked one-on-one at our desks, the first thing he always pointed out was what was working *right* with our shots. Only after pointing out areas that were looking great would he then let us know about things that needed improvement. That is a lesson that has stuck with me ever since, and these days I still use that approach with my students. (Stefen might be surprised to read that here!)
10. Is there someone in particular who has influenced your decision to work with ACM SIGGRAPH?
Like many early SIGGRAPH attendees, I have been friends with Joan Collins since the early 1980's, since we worked together in the LA Chapter,and produced projects like "On The Threshold" together. And of course a nod to Frank Foster, who asked me to take over as Chair of the SIGGRAPH Pioneers last year.
11. What can you point to in your career as your proudest moment?
I was incredibly lucky to have been a senior-level CGI artist for twelve years at Industrial Light + Magic, and to have been asked to supervise creation of the CGI Scarab Beetles in The Mummy and the Rock Monster in Galaxy Quest. My most well-known project is definitely the Columbia Pictures "Lady with a Torch" logo, which I helped animate with Joel Hynek,Diana Walczak and Jeff Kleiser, last year's SIGGRAPH Pioneer Featured Speaker. But my proudest moments these days come every time I put on the cap and gown and watch as the latest graduating class of my students walk down the aisle, knowing I had a tiny part in their lives, and hoping they will soon be better professionals for it.