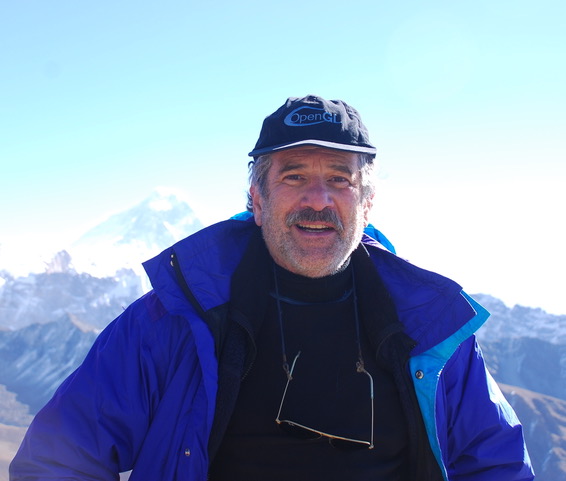 Member Profile:

Ed Angel
1. What do you do, and how long have you been doing it?
I'm presently retired after 29 years as Professor of Computer Science, Electrical and Computer Engineering and Media Arts at the University of New Mexico. I still teach courses at SIGGRAPH and work on new editions of my textbook on Computer Graphics. Lately, I've been working on introducing computer science ideas to 4th-6th graders in the local public schools.
2. What was your first job?
My first job in high school was delivering meat from a kosher butcher in Brooklyn, NY using a 75 lb bike. My first technical job was summers and part-time at the Aeronautics Lab at Caltech. My first summer, I made thin seamless copper cylinders by electroplating copper onto wax cylinders. I started with a vat of molten wax to cast rough cylinders which I then lathed into perfect shapes I could electroplate onto. Each one took days to make and then was immediately crushed by my boss to observe and measure crack propagation.
3. Where did you complete your formal education?
I have a B.S. in Engineering from Caltech and a PhD in Electrical Engineering from the University of Southern California.
4. How did you first get involved with ACM SIGGRAPH?
I attended a couple of national SIGGRAPHs while I was switching fields from image processing to computer graphics, mostly to take courses. While I was on sabbatical in London in 1988-89, my graduate students and a couple of researchers at Sandia National Labs formed a local chapter of SIGGRAPH. It was very successful and at one of our yearly public events, I met Mason Woo, who came out to NM with Silicon Graphics Inc. (SGI) 's traveling demo truck. Mason later asked me to teach part of the OpenGL short course at SIGGRAPH. That's become an almost yearly activity for me and led to many other educational involvements with SIGGRAPH.
5. What is your favorite memory of a SIGGRAPH conference?
It should be SIGGRAPH 97 in Los Angeles where I gave my first SIGGRAPH course. However, I was so nervous about giving the presentation to a large audience that I remember little about it other than that I survived the experience. The one I remember as the most fun was SIGGRAPH 98 in Orlando. Some of the theme parks were kept open until late in the evening for SIGGRAPH-only social events. I still remember standing at the top of a very high water slide and being challenged by my grad students to slide down it, which I did.
6. Describe a project that you would like to share with the ACM SIGGRAPH community.
I started the Art, Research, Technology and Science Lab (ARTS Lab) at UNM. It was a bottom-up effort that involved faculty from seven colleges at the university. It is an interdisciplinary center built on the ideas that research, teaching and economic development are of equal importance and we wanted to focus on New Mexico's unique combination of strengths in technology, the arts and its multi-culturalism. Our center has a large reconfigurable space with motion capture, a green screen background and access to the high-performance computers that share the building. We also have a research fulldome that we have opened to both artists and technologists. Our educational initiatives led to an interdisciplinary film and media program and we also seeded new digital media efforts in Continuing Education. The lab has had numerous interactions with the burgeoning film industry in NM and a host of startups.
7. If you could have dinner with one living or non-living person, who would it be and why?
The Dalai Lama. For over fifty years, he has extended his commitment to humanism and non-violence around the world, both with unfailing good humor. He also knows quite a bit about some of the major ideas in science. It would be a wonderful dinner.
8. What is something most people don't know about you?
Between my first teaching job at UC Berkeley and returning to USC as an assistant professor, I took off six months to drive a VW van from Europe to India, traveling through Turkey, Iran, Afghanistan and Pakistan along the way.
9. From which single individual have you learned the most in your life? What did they teach you?
Although he did not become my PhD dissertation advisor, George Bekey at USC has had a lasting impact on my life. George taught the analog and hybrid computing courses when I was a first-year graduate student and was doing research in medical applications and robotics. I had been wanting to find ways to apply my primarily mathematical training to the real world. He gave me a problem and sent me away to work on it. It forced me to learn programming and a lot of numerical analysis, all on my own. Later, I wrote my first conference paper with him. But just as important is George the person: beloved by his students, devoted to his family, and having a wide range of interests ranging from backpacking to Eastern philosophy. He's always exemplified to me what I hoped to achieve in life.
10. Is there someone in particular who has influenced your decision to work with ACM SIGGRAPH?
There were so many at SIGGRAPH who were welcoming and helpful. It was so different from conferences in my previous specialty of systems and control that were characterized by a highly competitive atmosphere and many "in groups." Some of the ones I remember the most from my early days at SIGGRAPH include Andy van Dam, Ken Perlin, Turner Whitted, Dick Phillips and my co-presenter and co-author Dave Shreiner.
11. What can you point to in your career as your proudest moment?
Probably getting major state funding for the ARTS Lab in 2003. It was the culmination of many years of effort by many people to create a viable entity that combined the strengths of New Mexico—–technology, the arts and its multi-culturalism—-to foster research, teaching and economic development at UNM as an integral part of the State's media industry strategic plan. A close second was when I found out from my editor that my graphics textbook was being used by over 200 colleges and universities, just in the U.S.