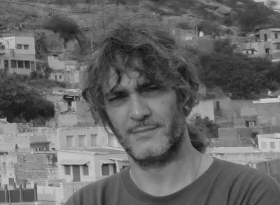 Member Profile:

Diego Gutierrez
1. What do you do, and how long have you been doing it?
I'm a professor of Computer Science at the Universidad de Zaragoza. Including my PhD, I've been doing research in graphics since maybe 2002 or so. I now lead the Graphics and Imaging Lab there. We work on rendering, computational imaging, and virtual reality. I also teach, of course, including a computer graphics class to senior undergrads.
2. What was your first job?
After getting my BS degree on EE, I didn't much care about jobs in industry. So I stayed around in my university, learning to use Softimage and other 3D programs jumping from one freelance job to another, one small grant to another. That's what actually got me interested in research, since I wanted to learn more about what the program was doing, why, and how.
3. Where did you complete your formal education?
At the Universidad de Zaragoza. Different from other parts of the world, it's actually common in Spain for somebody here to get a job at their alma mater. When there used to be jobs, that's it :/
4. How did you first get involved with ACM SIGGRAPH?
During my PhD I'd read the proceedings, but we'd never consider submitting. Until I decided to submit the result of my PhD, which was of course rejected. But it wasn't viciously thrashed, so I tried again the next year. And the next year. And finally got my first paper accepted. Somewhat in parallel to that process, I was invited to be on the Sketches committee in 2005, then to chair the same program for the first SIGGRAPH Asia conference in 2008.
5. What is your favorite memory of a SIGGRAPH conference?
Not sure I have one particular favorite moment. It would probably be related to firsts. First time I actually attended, first paper accepted… I think that's one of SIGGRAPH's strongest suits: it actually leaves you with so many great memories condensed in a few days, it is hard to single one out.
6. Describe a project that you would like to share with the ACM SIGGRAPH community.
Hard to pick one. Maybe our work on non-line-of-sight imaging. My colleagues Adrian Jarabo, Belen Masia and I were lucky to collaborate with Ramesh Raskar's group at the MIT on the femto-photography paper, a computational imaging technique that allowed us to obtain a billion frames per second (a trillion in the US and UK), allowing us to see light in motion. We've been working on that area ever since, collaborating with different great researchers all over the world. But looking back, maybe the greatest project has been building this group in Zaragoza, with the help of all the fantastic colleagues and students I've worked with.
7. If you could have dinner with one living or non-living person, who would it be and why?
Carl Sagan in the non-living category, probably Neil deGrasse Tyson now. Space, planets, the whole Cosmos TV series… That's what got me hooked in science.
8. What is something most people don't know about you?
I played basketball, and I was decent enough to make it to the final-30 or so list for the pre-Junior National Team (16-17 y/o, I don't remember). I was excited that I'd get to try and make the team during a whole week of practice sessions, but then budget cuts forced the coach to make the final list without such tryouts. Of course I was cut. I would've been cut anyway, but…
9. From which single individual have you learned the most in your life? What did they teach you?
I wouldn't dare to choose a single one. I've learned from anybody who's ever interacted with me, even if it was only how not to do things :)
10. Is there someone in particular who has influenced your decision to work with ACM SIGGRAPH?
Maybe not SIGGRAPH in particular, but I'd like to mention Alan Chalmers here. I presented a paper in a small conference in 2004, and he was there. I got the Best Paper award, and he approached me and convinced me that I'd be a good researcher, that I should try and aim for the best conferences. Looking back, that may be when I realized I could do this, or at least try.
11. What can you point to in your career as your proudest moment?
Building the Graphics and Imaging Lab group in Zaragoza. I've been lucky to accomplish many goals in my career: I have a decent publication record, got some awards, an ERC Consolidator grant… But looking back, seeing what the group has achieved… Working with such brilliant, motivated students and group members, trying to help them realize their full potentials, that's what gets me up every morning.