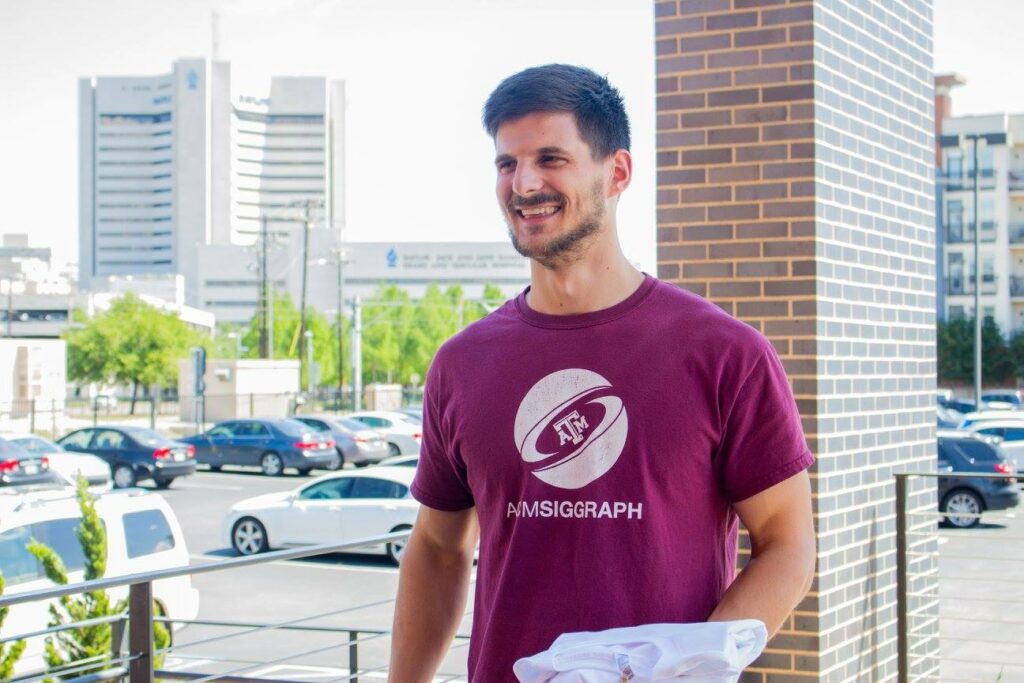 Member Profile:

David Verona
1. What do you do, and how long have you been doing it?
I am currently a Rendering TD Resident at Pixar Animation Studios, where I've worked for about 6 months. This role has me tracking down various issues in shots that aren't caught until final rendering, which means that no two days are ever the same! My education in Visualization and Computer Science prepared me well to triage and remedy issues as soon as we find them.
2. What was your first job?
My first job was serving pretzels and Dippin' Dots at a water park in Southern Indiana, but no one cares too much about that! Before Pixar, I worked as a Teaching and Research Assistant at Texas A&M and a run-of-production Render Wrangler at ReelFX Creative Studios during the production of Rock Dog.
3. Where did you complete your formal education?
I studied at Texas A&M University's VizLab where I earned a Bachelor's of Science in Visualization and a Minor in Computer Science. I'm also actively pursuing my Master's in Visualization from Texas A&M.
4. How did you first get involved with ACM SIGGRAPH?
My first exposure to SIGGRAPH was getting rejected from the Student Volunteer Program at the 2013 conference! Thankfully, I was able to get involved with the student chapter at Texas A&M and reapply for the SV Program in 2014, when I was first accepted. In Vancouver, I fell in love with the people that make up SIGGRAPH; a group of people that enthusiastically support and cheer each other on in the development of ever greater graphics and interactive techniques year after year.
5. What is your favorite memory of a SIGGRAPH conference?
There are too many to pick an absolute favorite, but the memories that stick out are having conversations with so many unique people during and after conference hours everyday. One of these conversations in Vancouver 2014 began a relationship with the man that ultimately gave me my first job in industry, so that's a particularly fond memory!
6. Describe a project that you would like to share with the ACM SIGGRAPH community.
I took a course on physical computing where I had a long time to create a final project. I chose something well outside my comfort zone; an interactive piece that could function as an art piece and home appliance all in one. It's called Weather Window, and it's a box with a window facade and opening on one side. The user inserts their hand into the box and the current weather outside is simulated on their hand for 3 seconds. Then, the next 12 hours forecast is simulated within the box over the course of 12 seconds so that the user feels haptically what the weather will be like for the day in 15 seconds. The box interior lights up differently to show sky conditions, includes a peltier junction and fans to simulate heat and cold, and a reservoir, pump and squirt nozzle for precipitation. It was a really fun project and seeing people's reactions to it at our end of semester show was awesome!
7. If you could have dinner with one living or nonliving person, who would it be and why?
I think I'd want to have dinner with an incredible chef, like Grant Achatz from Alinea, and pick their mind about food and what they do with it and why. There are plenty of other people I'd love to sit and talk with, but if it's going to be over dinner, why not make the topic of discussion the very food on our plates? I think talking with experts in any field is valuable regardless of how close their interests are to yours. I'd hope to learn some things that I could port over into my own art and philosophy of life.
8. What is something most people don't know about you?
When I was very young, I jumped straight backwards instead of forwards into a swimming pool and split my head open on the concrete. When my hair is cut short enough, you can still see the 8 stitch scar!
9. From which single individual have you learned the most in your life? What did they teach you?
I've learned more from my mom than most people get to. That's because I was home schooled from grades 1-12, so most of my formative education came from her! Besides arithmetic, grammar, and science, my mom has shown me what it looks like to be a confident leader. She created an educational 501(c)(3) organization to teach video production, cooking, music, drama, and art classes to members of our community and seeing her found and run that so well was really inspirational for me.
10. Is there someone in particular who has influenced your decision to work with ACM SIGGRAPH?
Two alumni of Texas A&M, Gracie Arenas Strittmatter and Jacy Johnson, convinced me to apply for the Student Volunteer Program years ago, and I couldn't be more grateful! Working with SIGGRAPH, especially in the SV Program, has so much meaning for me. It's amazing to be able to give back to a program that's given me so much!
11. What can you point to in your career as your proudest moment?
In February 2017, I saw my first credit after the film, Rock Dog, and that was a really exciting moment for me!