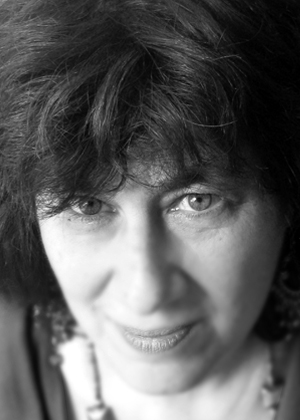 Member Profile:

Cynthia Beth Rubin
1. What do you do, and how long have you been doing it?
I work with images inside the computer. I take photographs, I digitally paint, I take fragments of my pre-digital work, and I interweave the images into videos, still images, interactive works, web works, whatever is needed to take the imagery to the next level.
Most recently I have been collaborating with the Oceanographers in the Menden-Deuer lab at the University of Rhode Island. My work is beyond scientific visualization, it is about depicting the microscopic plankton in a way that makes them viscerally accessible to non-scientists as well as scientists.
2. What was your first job?
My first paying job was when I was a student in the Gallery Shop at the Brooklyn Museum, which sold artisanal items from around the world. This is where I learned about global visual traditions. Previously I had volunteered in settlement houses helping young people learn to read. My first "real" job after college was developing educational materials in art for rural Vermont and New Hampshire teachers who taught in school without art education. My first job after graduate school was teaching Design at McDaniel College.
3. Where did you complete your formal education?
Antioch College, Yellow Springs, Ohio,BA in Studio Art
Maryland Institute College of Art,MFA in Painting
4. How did you first get involved with ACM SIGGRAPH?
By 1989 I had been using computers for over 5 years, and it was time to attend a big conference. Both SIGGRAPH and MacExpo were in Boston that year, not far from where I was living. I attended a few days of each, and SIGGRAPH won hands down.
5. What is your favorite memory of a SIGGRAPH conference?
Honestly? When SIGGRAPH was in Dallas in 1990. The buses were bringing us back to the hotels from the ET, and Rhythm and Hues was having a great party downtown. I convinced everyone on the bus to take up a collection to tip the driver have him take us to the party instead of the hotels! It was not just the party – it was the excitement of being part of a new field, of making new friends in the same field when art-making with the computer was not widely practiced or accepted.
6. Describe a project that you would like to share with the ACM SIGGRAPH community.
Over an 18 month period, beginning in July 2008, I worked with a group of artists to launch an exhibition of new work based on a historic site, which happened to be a synagogue. The project included research of both the artifacts and orals histories of the immigrant community and the building. By the time the works were completed, nearly all of the artists and computer scientists on the project had incorporated innovative digital imaging in their works. I would like the ACM SIGGRAPH community to know about this project because this represents a major shift in the increasingly out-dated notions of what artists do. Artists today conduct research, and artists and computer scientists collaborate!
7. If you could have dinner with one living or non-living person, who would it be and why?
Dinner would be sharing, not just staring up at someone. So I would pick Rosa Bonheur, because until I saw a painting of hers at the Metropolitan Museum when I was about 10 years old, I did not know that women could be artists.
8. What is something most people don't know about you?
That I come from an activist family, and I remain committed to social justice. I met Martin Luther King Jr. and Jesse Jackson as a teenager, but that came out of my community activities. I am currently volunteering to help a family of refugees from Darfur resettle in the USA, as well as occasional work with homeless projects.
9. From which single individual have you learned the most in your life? What did they teach you?
I learned the most from the writings and paintings of Hans Hofmann. He taught me to embrace ambiguity in visual thinking. Much of his thinking is of course dated from today's perspective, and I never met him, but his influence is still evident in my work.
10. Is there someone in particular who has influenced your decision to work with ACM SIGGRAPH?
Jacki Morie. I mentioned the Boston SIGGRAPH in 1989, but what I did not say there is that I had planned to leave Boston after 2 days, but on the way out I stopped by the Education Booth and met Jacki. She practically tied me down telling me that I could not leave. I lost a boyfriend who was waiting at home (life before email and cell phones), but SIGGRAPH was worth it!
11. What can you point to in your career as your proudest moment?
My proudest moments have been the times that I have spent with friends at SIGGRAPH, ISEA, and other conferences. I was honored to develop the Lifetime Achievement in Digital Art Award, and to serve as the first Chair of that committee. After an early career in painting, it has been wonderful to be part of a field built on sharing and mutual recognition.