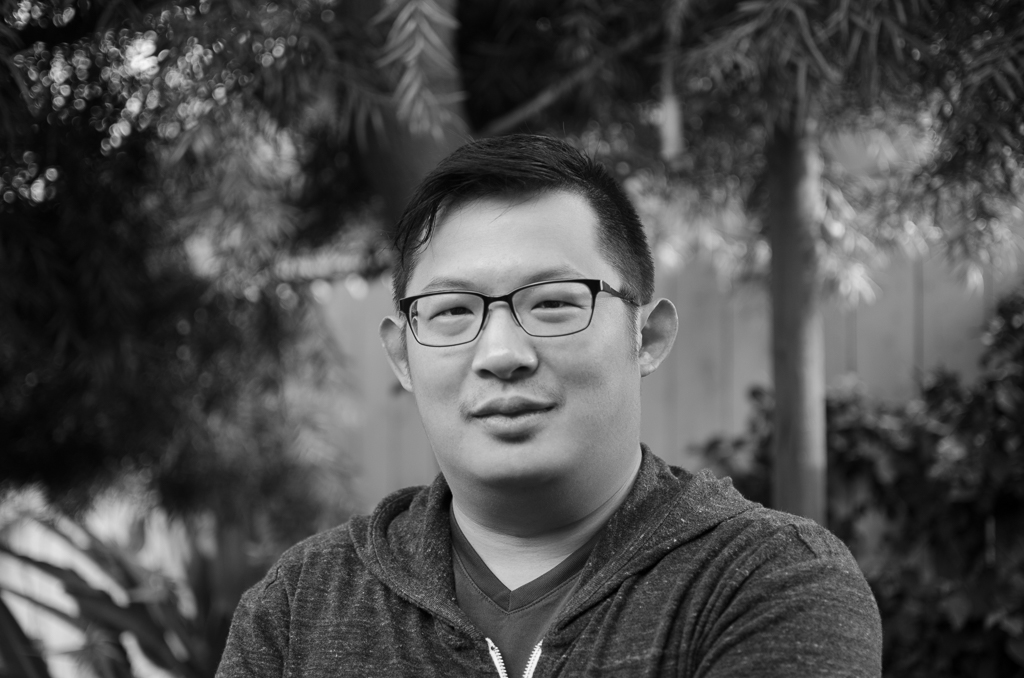 Member Profile:

Casey Kwock
1. What do you do, and how long have you been doing it?
I am a Submissions Technician for Activision Blizzard where I help manage communications, asset deliveries and scheduling between the Development Studios, Publishing Team and First Party Sony, Nintendo and Microsoft. My background is in Film and Game production, and have been involved with both industries for over a decade. I'm also a Freelance Photographer and Indie App Developer. My photos can be seen around Orange County as part of the Popzilla Gallery artist group and I just finished a set for my first print magazine feature. My goal is to have a career in Animation and VFX production while running my own photography studio.
2. What was your first job?
I was a Martial Arts Instructor until the end of High School. During college I worked for the University of California Irvine as Set up and Backstage Crew for various types of events. I wanted to work in Film Production, so it was a great way to start building up my experience.
3. Where did you complete your formal education?
I received a BA in Film Studies at the University of California Irvine in 2003 and a BS in Game Design & Art from Westwood College in 2009.
4. How did you first get involved with ACM SIGGRAPH?
I went back to school in 2007. There were a lot of new programs, workshops and classes being offered at the time that focused on Games and 3D Animation. I tried a few of them as it was difficult to tell which ones would pan out. One of the Professors I met, who was previously a SIGGRAPH Student Volunteer, told me about the SIGGRAPH Conference and recommended I apply for the SV Program. I had no prior knowledge of ACM SIGGRAPH but was open to new opportunities. So I submitted the application, was waitlisted, then got in. Since then I haven't missed a conference and served on the Games, Studio, VR and Production Sessions committees.
5. What is your favorite memory of a SIGGRAPH conference?
I love every moment of the conference. Even the stressful ones. But there are three moments that happen every year that I look forward to the most. The first day pre-conference meet-up after everything is set-up is my favorite time to catch up with friends and meet new people before we are all too busy. Midway through there is always a casual night where a few of us just hang out in a hotel room and unwind. Then toward the end before everyone returns home, a group us get together to explore the host city and make dinner. These sound like normal activities at home, but are only possible with the friends I rarely see during the SIGGRAPH. I can count on these moments every conference and are the best memories I take away each year.
6. Describe a project that you would like to share with the ACM SIGGRAPH community.
Last year I pulled together a team of volunteers to develop an Augmented Reality App for SIGGRAPH 2017. I met a lot of people who wanted to get involved with the conference or continue volunteering but for various reasons the opportunities were not there for them. The app was a way for me to pull these people together. While we are hoping to bring the app to Vancouver for 2018, my goal is to create a project for every SIGGRAPH conference that the ACM SIGGRAPH community can contribute to. Next year may be an app again, but the year after may be a short film.
7. If you could have dinner with one living or non-living person, who would it be and why?
Kathryn Beaumont. Final answer. She was the Voice Actress for Alice and Wendy in Disney's animated classics Alice in Wonderland and Peter Pan then went on to become a school teacher. I've always been drawn to Alice's Adventures which inspire my creativity and footage from her Live Action Reference sessions are still my favorite Behind the Scenes moments to watch. I'd like to hear about her experiences at Disney and as an Educator since I work with students too.
8. What is something most people don't know about you?
I have a fascination with Fairy Tales and children's Fantasy novels. I find them more imaginative than other stories. I'm always on the lookout for older prints of Alice's Adventure in Wonderland and have been planning to get an Alice tattoo for years.
9. From which single individual have you learned the most in your life? What did they teach you?
This is the hardest question on here! The most important lessons I learned in my life so far are to be persistent and not be afraid of change. I didn't learn these from a single individual but from the experiences I've had with my friends and family. It takes a lot of support to constantly move forward but also don't be afraid to stray. More often than naught we have found ourselves in unexpected places that turned out to be where we needed to be. Life is funny like that.
10. Is there someone in particular who has influenced your decision to work with ACM SIGGRAPH?
Maya Karp. There wasn't any particular moment or grand gesture she did that influenced me. But more of a consistency and acceptance. Maya always invited me to meet ups during the conferences where I met a lot of friends who went on to become Chairs. Eventually she moved locally which lead to regular hangouts with other SIGGRAPH friends. While now I plan a lot of the hangouts and invite others to join, it was Maya who kept me going during the initial years.
11. What can you point to in your career as your proudest moment?
I'm still working on getting my career off the ground. But I'm confident that it'll take off soon. A lot of parts are starting to align and finally come together. And when they do, that will be my proudest moment knowing that all the hard work and persistence paid off.