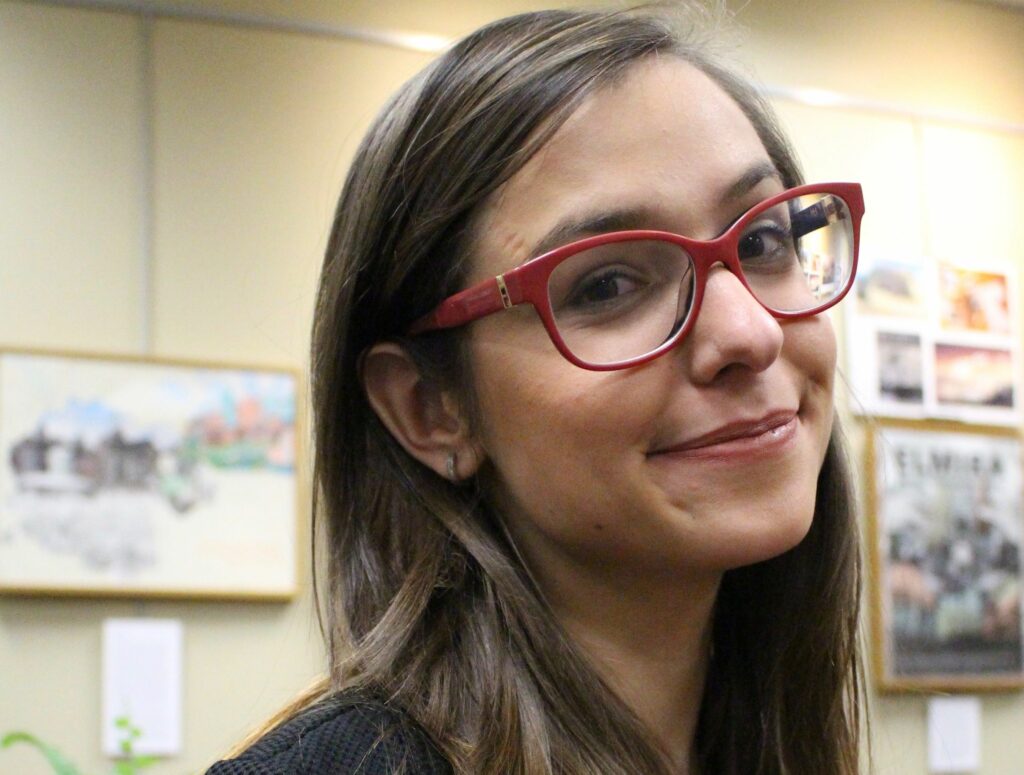 Member Profile:

Beatriz Mello
1. What do you do, and how long have you been doing it?
I currently study Graphic Design in Brazil, but my dream is to work with visual development for animation which I have been learning about it since 2015.
2. What was your first job?
My first job was an internship at Nakata Studio. Nakata is a graphic design studio in Brazil that provided me with an excellent opportunity to put my studies into practice. Also, during the summerof 2016, I had the opportunity to work as an intern at Tadapix Animated Marketing, while doing an exchange program in U.S.
3. Where did you complete your formal education?
I'm graduating from UNESP (State University of Sao Paulo)in January 2018! So excited about it!
4. How did you first get involved with ACM SIGGRAPH?
In 2013, I attended a presentation about the SIGGRAPH Student Volunteer program conducted by students who had already participated. Feeling inspired, I decided to attend for the first time in 2015 only to return again as a team leader in 2016 and 2017.
I can say for sure that being part of the SV Program was one of the best experiences of my life!
5. What is your favorite memory of a SIGGRAPH conference?
I have so many great memories from SIGGRAPH that it's hard to choose a favorite! However, I feel that my best memories are related to the amazing people I've met at the conference. Having the chance to meet people who are passionate and dedicated is so inspiring! I always come back from the conference full of new ideas that keep me motivated to accomplished my dreams!
6. Describe a project that you would like to share with the ACM SIGGRAPH community.
I would love to share my graduation project! It consists of an art-book full of character and environmental designs that could be used foranimation.There's a lot of me in this project. It's amazing how much growth can stem from putting your whole heart into a project.
7. If you could have dinner with one living or non-living person, who would it be and why?
Probably my great grandfather. I lost him when I was nine but I can still remember visiting him and the delicious food he used to cook. His chocolate cake was untouchable. I would love to catch up with him over one more bite now that I'm older.
8. What is something most people don't know about you?
I'm a terrible singer, but I love singing out loud when I hit the road by myself!
9. From which single individual have you learned the most in your life? What did they teach you?
I feel that my parents have been my greatest teachers. I grew up observing them working so hard to provide me the best experiences I could ever have. Even when I'm feeling down, they know how to make me feel stronger and focused! I can't put into words how grateful I am for having them in my life!
10. Is there someone in particular who has influenced your decision to work with ACM SIGGRAPH?
All the people who enrolled inthe SV Program had a huge influence on my desire to be a part of ACM SIGGRAPH! It's unbelievable how they manage to bring so many dedicated and inspiring people together!
But specifically I would thank my Brazilian friends, Thomas and Ivan, for first motivating me to apply. Also, Emma, Muunuu and Sarah for being such amazing examples of women in the industry. They always inspire me to do my best.
11. What can you point to in your career as your proudest moment?
I would say my proudest moment is yet to come. However, my goal has always been to inspire people through my artwork. There is this app called Walli, where people can download my illustrations and use it for wallpaper. Because of that, I have been receivingmessagesfrom people around the word encouraging meto keep going and even thanking me for making it available! It might be something silly, but it makes me really happy!