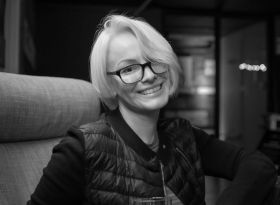 Member Profile:

Asiya Gizatulina
1. What do you do, and how long have you been doing it?
For a little over a year I've been a Software Developer at Code Particle in Los Angeles, and this year I began my online Master's degree in Computer Science from Georgia Institute of Technology where I hope to specialize in Machine Learning.
2. What was your first job?
I worked for a landscape design studio during my college years doing project visualizations by hand using watercolors. After a while, I started to teach myself how to do those same visualizations in 3D using 3ds Max, which really inspired me to continue my education in this field. However I didn't know of any schools that specialized in CG in Russia at that time, so I made the decision to move to New York City.
3. Where did you complete your formal education?
I received a BA in Arts and Design from Bashkir State Pedagogical University, and a BA in Computer Animation and Interactive Media from the Fashion Institute of Technology in New York City.
4. How did you first get involved with ACM SIGGRAPH?
I first heard about ACM SIGGRAPH in 2015 from my Computer Animation professor Tony. He encouraged our class to apply to be Student Volunteers. I had no idea what that was at the time, but I was curious and applied. I enjoyed the experience so much I returned the following year as an SV, and later joined the ACM SIGGRAPH International Resources Committee (IRC).
5. What is your favorite memory of a SIGGRAPH conference?
My favorite part is meeting new people, reconnecting with old friends, and just how open, friendly, and talented everyone is. That amazing and inspiring community opened my eyes to so many opportunities and in many ways coming to SIGGRAPH was instrumental in helping me realize which career path I really wanted to pursue.
Thinking of the one particular favorite – I remember and how a group of people gathered on the same street corner after Pixar's RenderMan party in 2015. We decided to go to the next event together, shared chats and laughs, and remained in each other's lives since!
6. Describe a project that you would like to share with the ACM SIGGRAPH community.
For SIGGRAPH 2017 I helped to develop the Triviatron part of ScavangeAR mobile game for the International Resources Committee. ScavangeAR is a fun interactive augmented reality game that attendees could play during the conference. Triviatron encourages players to learn more about the history, people, and themes of SIGGRAPH. In 2018 I wasn't able to help as much with the development of the game, but it was so exciting to see a great job that the ScavangeAR team did with the latest iteration of the app and how many people enjoyed playing it.
7. If you could have dinner with one living or non-living person, who would it be and why?
Robert Heinlein, I grew up reading and admiring his books.
8. What is something most people don't know about you?
I'm a big fan of orienteering! It's a sport where you run through a forest with only a topographical map and a compass, navigating from point to point to complete a course as quickly as possible. I've been participating in events since childhood and I used to be part of a regional team in Russia. After moving to New York I volunteered for a local club – Hudson Valley Orienteering – helping with graphic design and sometimes with organizing competitions. A few years ago we hosted a US orienteering championship!
9. From which single individual have you learned the most in your life? What did they teach you?
My Dad. His example taught me how important it is to really follow your dreams, be passionate about what you do and to be kind. Also, he had a huge collection of science fiction novels that deeply inspired me to read and to be curious.
10. Is there someone in particular who has influenced your decision to work with ACM SIGGRAPH?
Jacky Bibliowicz who introduced me to the International Resources Committee and to Diana Arellano. I appreciate that those two people gave me an opportunity to be a part of IRC.
11. What can you point to in your career as your proudest moment?
I'm only just getting started in my career but at this point, I'd say being a technical mentor in a coding school. It's very rewarding to be able to provide some support to students who were taking the very same leap I took to begin a career in the tech industry.