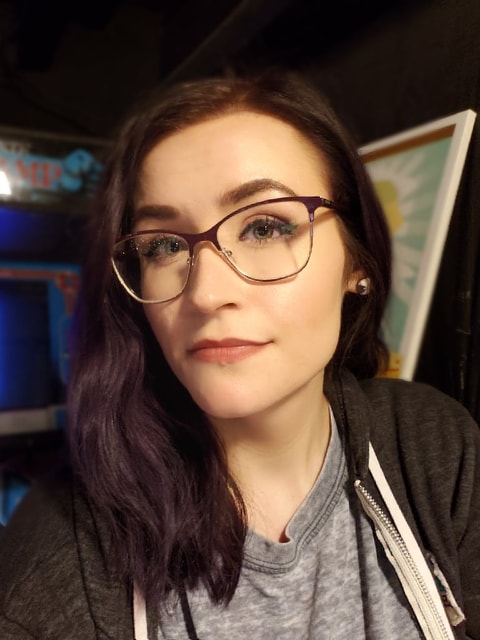 Member Profile:

Angel Agee
1. What do you do, and how long have you been doing it?
I predominately own and manage industrial properties, such as warehouses and lots, within the greater Nashville area. I also do freelance work as a 3D generalist on the side. I've been working with properties since 2016 and freelancing since early 2018.
2. What was your first job?
When I was around 10 or so, I would spend my weekends with my mom in the small southern town that she lived in. At the time, she worked full time as a waitress for a small family-owned restaurant. Since she worked so much, and I spent so much time there, the family that owned the restaurant started paying me under the table to help make the pies. Even though I didn't get paid much, it was a lot of fun for me, and I still really enjoy baking because of it.
3. Where did you complete your formal education?
I graduated from Middle Tennessee State University with a Bachelor of Science in Animation with a minor in Fine Arts.
4. How did you first get involved with ACM SIGGRAPH?
In the fall of 2014, I took my first animation class ever, and my professor just so happened to be the 2015 conference chair Marc Barr. Naturally, Marc talked about the conference a lot, and how beneficial the student volunteer program is to personal growth. From there I joined our college's ACM SIGGRAPH student chapter to learn more about the conference. To my surprise, I ended up taking my first plane ride to SIGGRAPH 2015. I really fell in love with SIGGRAPH then, and I just continued to be involved from there.
5. What is your favorite memory of a SIGGRAPH conference?
Of all the wonderful memories I have at the conferences, the ones I cherish the most are the early mornings that I spent with all the team leaders in Vancouver 2018. We'd show up at the crack of dawn, exhausted and stuffing bagels in our cheeks before the students arrived. No matter how tired or sore we were, everyone was always so charged by the conference, and so ready to give it their all.
6. Describe a project that you would like to share with the ACM SIGGRAPH community.
SIGGRAPH NA 2019 will be the first run of the brand-new ACM SIGGRAPH Frontiers, which will be presenting panels and workshops on, essentially, where technology is going. The focus of Frontiers is to explore what is up and coming in the industry, and what to keep your eye out for. Some of the talks lined up are truly mind-blowing, so don't miss out!
7. If you could have dinner with one living or non-living person, who would it be and why?
I normally don't care very much about celebrities, but if I had that once in a lifetime chance, I would 1000% have dinner with Gordon Ramsey. Gordon had a rough early life that shaped him into the no BS person that he is today. As aggressive as he comes off on TV, the man has done an incredible amount of charity work and really does just want to see people do their best. I feel like there's a lot I could learn about life just by talking to him.
8. What is something most people don't know about you?
I studied professional baking before I fell into animation. Baking has always been a big part of my life and, as I said before, baking pies was even what I did for my first job. Growing up in the American South, food always meant love, so I'd spend day in and day out fussing over cake textures and flavor profiles. Even though I changed my career path, baking is still one of my favorite hobbies, and I love to bake for those around me.
9. From which single individual have you learned the most in your life? What did they teach you?
My grandpa, Lucius. I spent nearly all my upbringing with him, and really wouldn't have been who I am today without him. He grew up in a single parent household in the depression as the oldest child, so he always had to bust his tail working to survive. He worked odd jobs, he served in WWII, he was a professor, an architect, and a businessman. He taught me the value of a strong work ethic and how to enjoy working. He also taught me to love art in all its forms. He showed me how to paint, sculpt, and woodwork with anything we could find on the farm. I still try to see him as often as I can, and I really owe him everything for who I am.
10. Is there someone in particular who has influenced your decision to work with ACM SIGGRAPH?
While I started participating in SIGGRAPH because of Marc Barr, I really stayed and continued to get more involved because of my other professor, and the head of our chapter, Kevin McNulty. The Chapter at MTSU is a huge part of the major and student life, so it is pushed hard from the start. Every year that I attend and participate I meet more inspiring people that fuel my passion for the organization.
11. What can you point to in your career as your proudest moment?
My proudest moment is just getting to be involved as a Team Leader at SIGGRAPH 2018. I'm grateful that I was able to be there for others, and SIGGRAPH of course, during that week. I made some irreplaceable connections and grew a lot as a person. Managing properties doesn't compare to the work I do for the conference; it doesn't compare to being able to hold out my hand to a student in need.