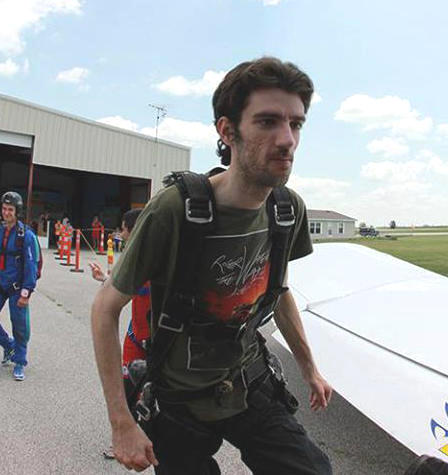 Member Profile:

Andrew Laverty
1. What do you do, and how long have you been doing it?
I'm currently a student in 3D Character Animation, and have been doing it for 3 years. Apart from that, I've also done some work as a 3D modeler, rigger and texture artist—but character animation is my primary focus.
2. What was your first job?
My first job was working in a local car wash when I was 15 years old. Not very glamorous, but ideal for a teenager.
3. Where are you pursuing your education?
I'm a student at The Academy of Art University. Honestly, I never thought college would be an option for me, as I dropped out of high school and obtained my GED. But while high school was not an good setting for me personally, I have found college to be a perfect fit.
4. How did you first get involved with ACM SIGGRAPH?
I applied to be a student volunteer in 2010, never thinking I would be accepted. I'd briefly seen SIGGRAPH mentioned in course reading material, and became curious and began researching the conference. From there, I discovered the student volunteer program, applied, and to my surprisewas accepted.
5. What is your favorite memory of a SIGGRAPH conference?
This is a tough one! There are so many that it's difficult to nail down just one memory as a favorite. If I had to pick just one, it would be a random meeting with another attendee in the teapot line that has lead to a great friendship I would never have imagined happening any other way.
6. Describe a project that you would like to share with the ACM SIGGRAPH community.
I recently went skydiving, and now have the idea of doing a short based on two strangers bonding during their first skydive. There are several images I have in my head that I feel would work well for an animated short, and I'll begin the storyboards soon. Collaboration has always been something that's very important to me, and I'd love to collaborate within the ACM SIGGRAPH community.
7. If you could have dinner with one living or non-living person, who would it be and why?
I would like to say Glen Keane, but since I can choose a non-living person, I would have to say the Roman Emperor Hadrian. I've always been fascinated by the history of Ancient Rome, and Hadrian especially was someone I always saw as an influence on me as an artist. Most people know of Roman emperors as being masters of warfare, but Hadrian was also a poet and thought of himself more as a poet than a conqueror. Which is something about that always resonated with me personally, and I'd like to talk to him about his writings and his life.
8. What is something most people don't know about you?
This is going to seem really funny, because most people know me as a metalhead. Judas Priest, Anthrax, Slayer, Black Sabbath and Iron Maiden are some of my favorite bands. But what they don't know is that I'd really like to learn ballroom dancing. It's a dichotomy that people who know me would most likely not assume. But those who do know seem to think it fits with my personality.
9. From which single individual have you learned the most in your life? What did they teach you?
The person I probably learned the most from would be my ex-fiance. She taught me that life has to be lived not by the expectations of others, but by the expectations you have for yourself. There will always be naysayers and those who don't agree with your choices, but you have to do what will be fulfilling for you—and not live by what others expect from you or want you to be.
10. Is there someone in particular who has influenced your decision to work with ACM SIGGRAPH?
At first there was not, because I found out about ACM SIGGRAPH on my own. As I continue to stay involved with ACM SIGGRAPH, that involvement could be attributed to several people within the community. Far too many to list, but the friends I've made and the professional contacts who all on some level inspire me to keep going in everything I do in my life and career. The people I've met have all had an impact on me and help keep me focused within SIGGRAPH.
11. What can you point to in your career as your proudest moment?
I honestly don't think I've hit that point yet. I have had moments of personal success that were very gratifying to me, but I've not yet had the proudest moment. I'm not even sure I want to have that moment, because after that everything else may suffer by comparison. I would much rather have a series of proud moments than just one moment. But if I had to say the first in that series would be the unexpected acceptance as SIGGRAPH student volunteer in 2010.