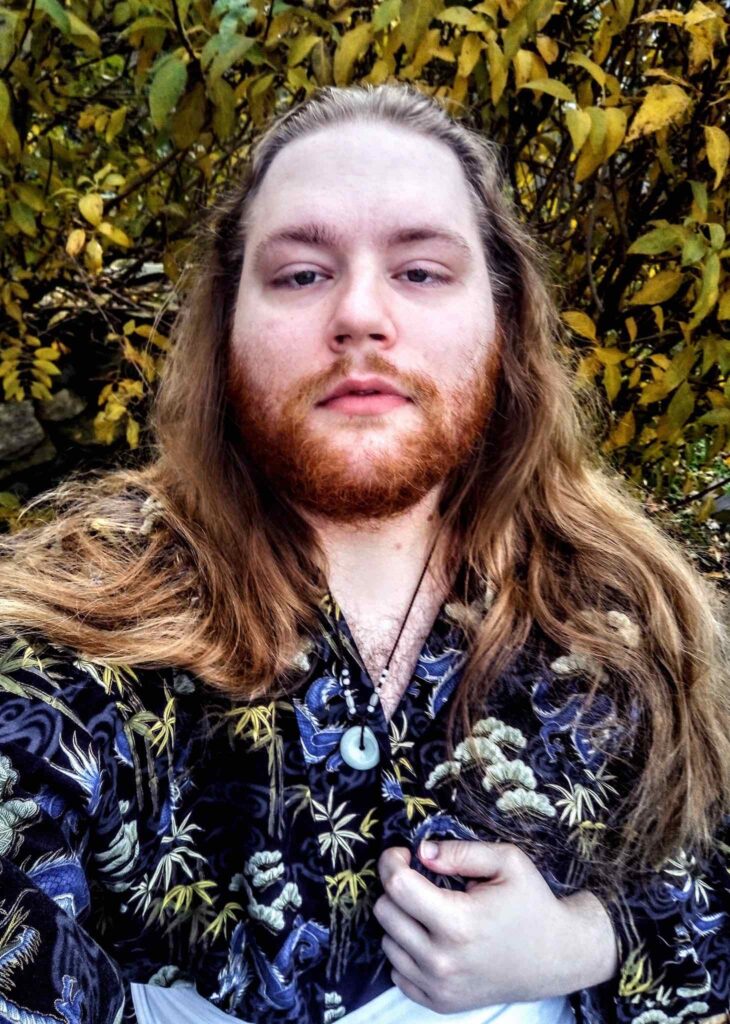 Member Profile:

Alex "Panda" Burke
1. What do you do, and how long have you been doing it?
I am a freelance animator, director, illustrator, voice actor, and have been doing work for about 4 years now professionally.
2. What was your first job?
My first animation job was doing work for a small company called Outer Loop Media, I was contracted to help composite and create ads for a clothing line for outdoor wear to be displays of the products on the client's website.
3. Where did you complete your formal education?
I completed my BA of Animation at Maryland Institute College of Art, but I had attended2 other colleges to get my prerequisite courses and pursueother academic interests before MICA, and I look forward to getting a master's in the future to further my education.
4. How did you first get involved with ACM SIGGRAPH?
I had a fellow classmate who introduced me to the world of SIGGRAPH, his name was Seth Izen and he not only informed me about ACM SIGGRAPH but also helped me apply with my first application to be a Student Volunteer and guided me through the process.
5. What is your favorite memory of a SIGGRAPH conference?
That is an incredibly hard question, there are so many awesome memories, but if I had to choose one, it would probably be when I got to be an announcer for an exhibit called "Parallel Eyes" telling people how to participate in the game and narrating the events like it was a major sport. The experiment was to show what it would look like if you could see what 3 other people were seeing along with your own vision allat the same time, and the other 3 participants could also see the same thing, the goal was to find other players, tag them out, and be the last one standing. It was a lot of fun and I got to show off some of my voice acting talent as well.
6. Describe a project that you would like to share with the ACM SIGGRAPH community.
At the moment I am currently between major projects, for now, I am trying to hone my illustration and animation skills to improve the quality of my work.
7. If you could have dinner with one living or non-living person, who would it be and why?
This is an unfair question as I can only choose one. But I suppose if I had to choose someone it would be Glen Keane. I love the way he talks about his work and how passionate he is. His deep knowledge and experience as an artist and animator would be amazing to learn from, especially on a personal level.
8. What is something most people don't know about you?
I have a lot of different interests that most of the time have absolutely nothing to do with each other, I can go on tangents for hours and hours and not stop about random unrelated facts with specific bits of information. I've been called a walking encyclopedia because of this trait before. It's really all just randomly picked up knowledge from various different sources because of my random excursions down rabbit holes of newfound interests.
9. From which single individual have you learned the most in your life? What did they teach you?
I would have to say my mom, she continues to teach me every day to be tenacious and ambitious, never to stop pursuing my passions. She's always encouraging me to keep doing what I love, and to never be anyone other than full self in everything I do.
10. Is there someone in particular who has influenced your decision to work with ACM SIGGRAPH?
I have to say that there are many people who have done that, I think who influenced me the most to continue was Marisa "Ginger" Tontaveetong. She helped me get a few jobs with her company ASIFA South and continues to help me still with occasional freelance work. When we first met she did a portfolio review for me and really showed me how great ACM SIGGRAPH was as a center of growth and connection for people in the industry. She inspired me to keep working to learn more and help others grow professionally, just as she did with me.
11. What can you point to in your career as your proudest moment?
Hands down, one of my proudest moments thus far in my career was getting to do educational work for NASA working with the Maryland Science Center to create an educational animation projected on a 360 star dome for the public to teach them about X-rays. Working on the short educational video was an amazing challenge as I had never done projection mapping before, so it was a whole new way to explore animation as a medium. Getting to combine my skills as a director and animator with my personal love of science still is one of my favorite things I have done to this day.