Gaming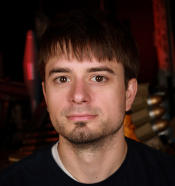 According to a recent survey conducted by the Entertainment Software Rating Board, 69 percent of U.S. households play video games. But for character artist Joseph Drust, games are more than just a bit of fun after work — they are his work.
Cyberworlds are information worlds or communities created on cyberspace by collaborating participants either intentionally or spontaneously. As information worlds, they accumulate information regardless whether or not anyone is in, and they can be with or without 2D or 3D visual graphics appearance. The examples of such cyberworlds are communities created in different social networking services, 3D shared virtual environments, and multiplayer online games.
Welcome to the ACM SIGGRAPH conference on Motion in Games 2013. This is the 6th year of the conference and the first time that it is sponsored by ACM SIGGRAPH. Games have become a very important medium for education, therapy and entertainment. Motion plays a crucial role in computer games. Characters move around, objects are manipulated or move due to physical constraints, entities are animated, and the camera moves through the scene. Even the motion of the player nowadays is used as input to games.