The Asia-Pacific Market
The Asia-Pacific digital media market is one of the fastest-growing economic sectors in the world, and all projections indicate that it will continue to expand at an exponential rate.
New production companies are emerging in India and China. Research institutions are growing throughout the region. In Korea and Singapore, digital media development is a national priority.
The government of Singapore is investing S$ 500 million in a five-year plan to create a regional powerhouse in digital media, and its Media Development Authority plans to create 10,000 new jobs and add S$ 10 billion to the nation's GDP by 2015.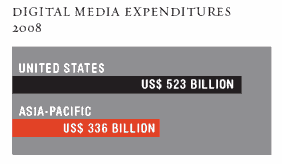 Thousands of Asian scientists, engineers, and digital media producers recognise SIGGRAPH's pre-eminent role in the international computer graphics industry. A recent study shows that Asian submitters to the SIGGRAPH Papers programme increased more than 300% from 1998 to 2005. And according to Google Trends, the three countries that generate the most Google searches for SIGGRAPH and related topics are all in Asia.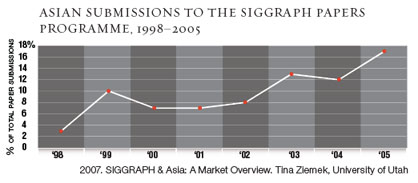 SIGGRAPH Asia 2008 will be a very powerful magnet for everyone in the continent's vibrant computer graphics community. Reserve your exhibit space now, to ensure that your message is delivered directly to them in this exclusive environment.