Exceptional Programmes Attract the Attendees You Need to Meet
Conservative projections indicate that the first SIGGRAPH conference in Asia will be the region's largest computer graphics event ever.
Thousands of technical and creative specialists in digital media will convene in Singapore to attend exceptional programmes presented by international artists, innovators, producers, engineers, researchers, and academics: Art Gallery, Computer Animation Festival, Courses, Educators Programme, Emerging Technologies, Job Fair, Posters, Sketches, and Technical Papers.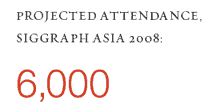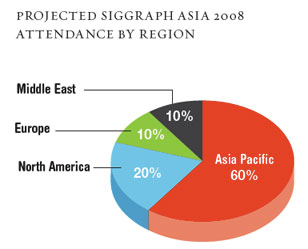 They will also spend many hours in the Exhibition. Attendee surveys consistently show that the primary motivator for SIGGRAPH attendance is the opportunity to learn about new products and services. SIGGRAPH Asia 2008 attendees will be looking for your company's stand and scheduling time to learn about how your offerings can help them achieve new breakthroughs in 2009.
The Exhibition will be a diverse, energetic showcase of everything Asia and beyond have to offer in computer graphics and interactive techniques, from hardware and software developers, production studios, and venture capitalists to government pavilions hosting the established and emerging companies that are shaping the future of digital media.
Exhibition Products and Services
Animation
Business/PC Graphics
CAD/CAM/CAE/CIM
Desktop/Other Publishing
Digital Video
Fine Arts/Graphic Design
Grid Applications
Monitors/Displays
Motion Capture
Realtime Applications
Multimedia/Hypermedia
Scan Converters/Scanners
Scientific Visualisation
Special Graphic Processors
Storage Systems
Virtual Reality/Simulation
Web Graphics/Development
Workstations
Attendee Profile
Animators and Special Effects Creators
Architects
Computer Graphic Artists
Industrial and Product Designers
Digital Innovators
Educators
Financiers and Legal Counsellors
Game Developers
Media
Programmers
Recruiters
Researchers
Software Developers
Students
Web Developers/eCommerce Producers
SIGGRAPH Asia 2008 is your unique opportunity to participate in and profit from the next wave of this dynamic industry.