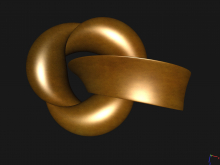 Umbilici Bracelets, the SIGGRAPH Fellows Award
by Alyn Rockwood
"And the primal became two"  - I Ching.
The two bracelets, emblems of Art and Technology, are duals.  Art is an organic shape with a heart-shaped cross-section. It undulates and breathes. The sleeker Technology has a triangular cross-section.  Linked together, the two bracelets represent the bond between these two human endeavors.  They also gear one another;  rolling one bracelet will turn the other.